1.Background
With the development of power industry, the safety and reliability of equipment are highly demanding. In the past, the method of manual inspection equipment has been gradually weakened, under this condition, the wireless temperature measurement system of high voltage equipment came into being. This technology is to install the temperature sensor with built-in battery and wireless transmitting module at each temperature measuring point. Because of its small size and no connection, its electrical safety can be guaranteed. The sensor periodically sends the temperature measurement data wirelessly to the receiver, and it can send the data to the main station on a network, so as to realize the electrical temperature monitoring of a regional system.
Currently, many power grid companies, substations and steel companies in China have adopted this wireless temperature monitoring technology on high voltage equipment.
The electric terminal on-line temperature measuring device is using for the temperature monitoring of cable connector, circuit breaker contact, knife switch, high voltage cable intermediate head, dry transformer, low voltage high current and other equipment in high and low voltage switch gear.To prevent excessive contact resistance caused by oxidation, loosening, dust and other factors during operation, heating becomes a hidden danger of safety, to improve the safety and security of equipment, to reflect the running state of equipment in time, continuously and accurately, and to reduce the accident rate of equipment.
2.Project Brief
Hong Kong UNS is an smart power service company, providing intelligent energy solutions and distribution maintenance services for all kinds of commercial buildings. The project has 11kV of switchgear need to detect cable temperature, customers consult Acrel wireless temperature measurement products, attending through Acrel ATE wireless temperature sensor and ATC receiver, the cable in the switchgear temperature detection, And through RS485 communication data transmission to the back platform for real-time monitoring, can effectively prevent overheating failure, affect the normal operation of equipment, avoid safety risks.
3.Temperature measuring instrument
1)Temperature sensor
a.sensor installed in a heating area that collects temperature and transmits it wirelessly.
There are currently four type wireless temperature sensors: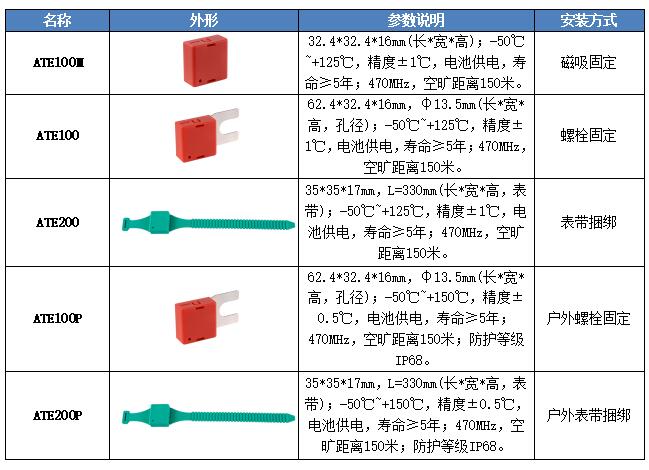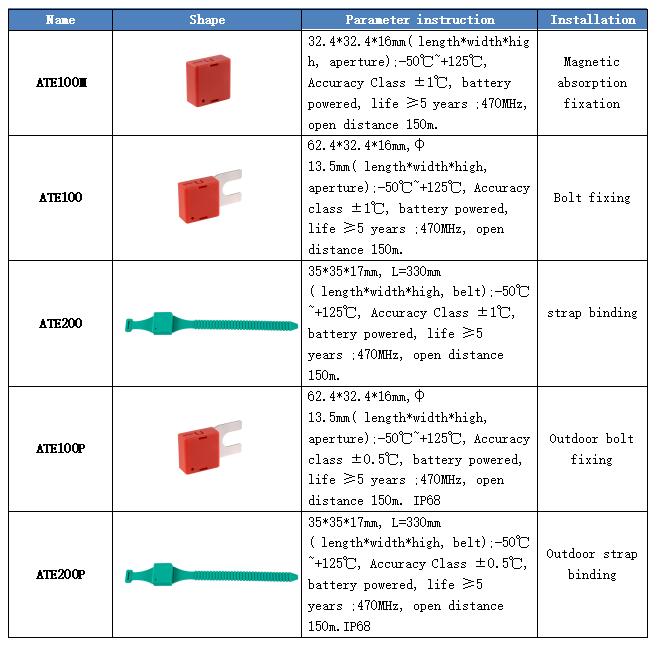 b. sensor installed at a high current such as a circuit breaker contact, a bus bar, a cable lap contact, to collect temperature and transmit it wirelessly.
There are currently two wireless temperature sensors: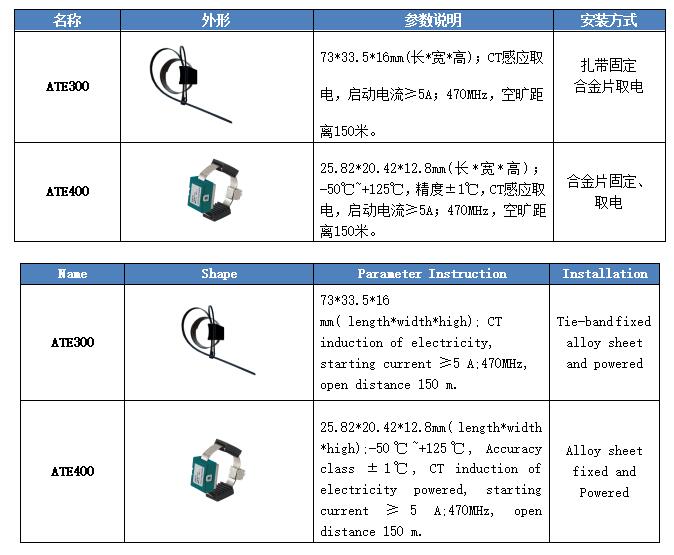 c.sensor installed in the contact of a high voltage cabinet, a transformer, or a motor winding to measure temperature, collect temperature and transmit it by wire.
Pt100 is wired temperature sensor at moment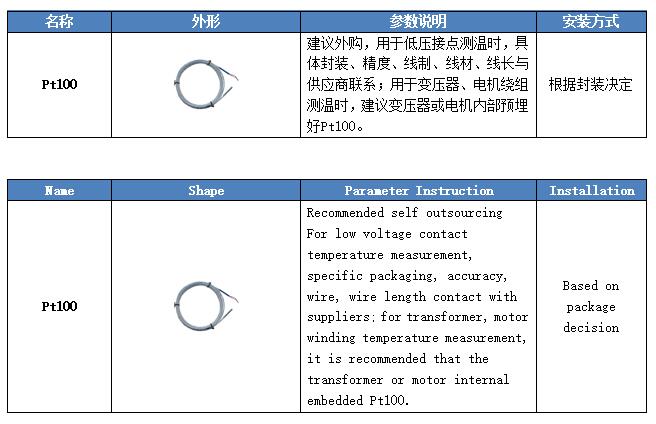 2)Receiving /displaying unit
a. Receiving unit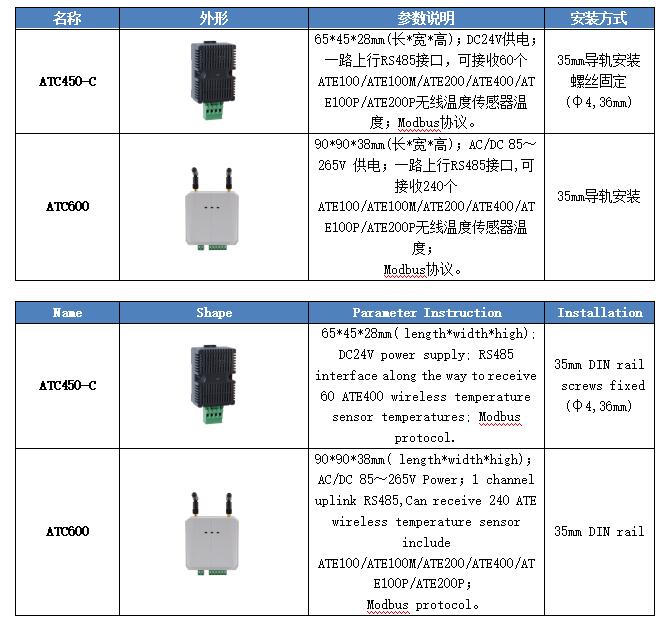 b. Displaying Unit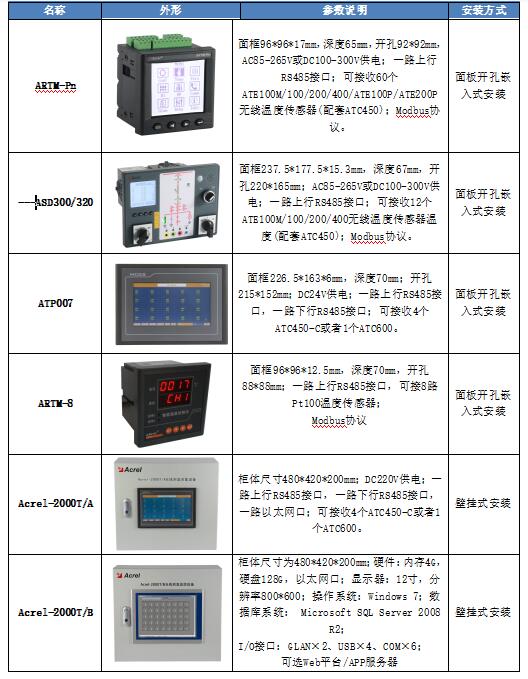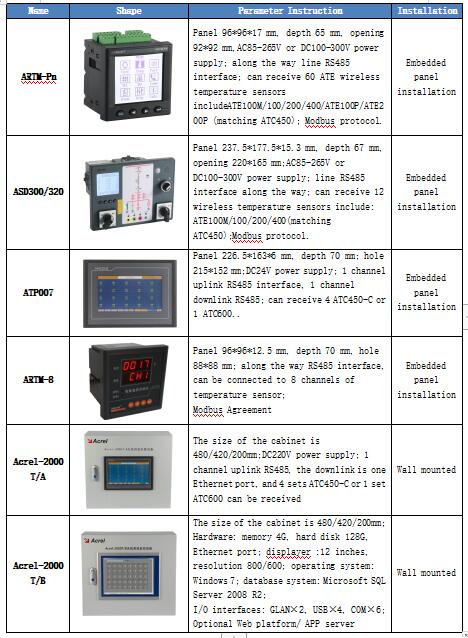 4.Recommended Customer solutions
a. Configuration solution: High and low voltage cabinet electrical contact wireless temperature measurement (without local display)
a.1 centralization(ATC450-C)

Instruction: ATC450-C wireless temperature transceiver can connect 60 wireless temperature sensors include ATE100/100M/200/400/100P/200P, support receive wireless temperature sensor temperature signals in multiple cabinets.
a.2 centralization(ATC600)

Instruction: ATC600 wireless temperature transceiver support connect 240 wireless temperature sensors include ATE100/100M/200/400/100P/200P, support receive wireless temperature sensor temperature signals in multiple cabinet with transparent transmission function.
b. Installation sample
Bibliography
1.Configuration of On-line Temperature Measurement Scheme for Electrical Terminal
2.The Application of Wireless Temperature Measuring Device in Low Voltage and Large Current Circuit Breaker
3.Solutions for enterprise micro-grid system
陈盼,女,本科。任职单位:现任职于安科瑞电气股份有限企业,联系电话:021-69156059,
手机:18702112032,QQ:2880956079 企业网址:http://www.acrel-dyh.cn/